Removed From Saved Antiques
There was an error, please try again. If the error persists, try refreshing the page.
Signed Original Watercolour, Portsmouth Harbour By David T Smith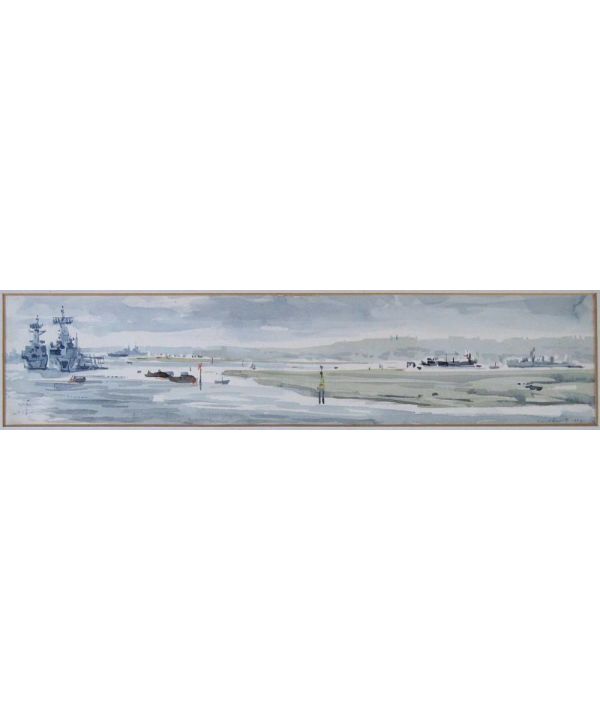 Key Information
Good and Usable Condition
| Length/Width | Depth | Height |
| --- | --- | --- |
| 70 cm | 10 cm | 27 cm |
| 27.56in | 3.94in | 10.63in |
This antique is currently unavailable. Please try again later.
Find more like it in the Watercolours category
Description
Mounted, Framed, Glazed & Signed Original Watercolour 'Portsmouth Harbour' by David Thomas Smith (Brit. 1920-99).

From the Series 'The Lighthouses of Trinity House' 1982-85.

Painter, draughtsman, printmaker & teacher, born in Lowestoft, Suffolk, where he attended the Technical School, also Lowestoft and Norwich Schools of Art. From 1939-40 Smith was visiting art master at Framlingham College, then he served in the RAF from 1940-50; a collection of his RAF pictures toured the country in aid of a forces' charity, finishing at Cooling Galleries, opened by Group Captain Sir Douglas Bader. After the war Smith studied at Slade School of Fine Art, winning the Abbey Major Rome Scholarship at the British School in Rome, 1949. In 1951 he was elected to the Royal Society of Painter-Etchers and Engravers. He showed at the Royal Academy, the London Group and elsewhere. Further teaching appointments included Senior Lecturer in Fine Art, Chelsea School of Art, 1965-79. Following a major show at the Sogo Gallery in Yokohama, Smith sold well in Japan, where he painted all the major harbours.

He was official artist to the British Antarctic Survey, 1975-76 with a second voyage in 1979-80. In 1982-85 he was invited by Trinity House to record the lighthouses of England & Wales and the present work comes from that series. He illustrated Richard Woodman's book 'View from the Sea' and Antony Fogg's 'The Discovery of Antarctica'. Examples of his work are held by HRH The Duke of Edinburgh, the British Antarctic Survey in Cambridge, Barclays Bank and many other corporate and private collections, as well as public galleries in Blackpool, Lincoln, Portsmouth and Sheffield. He died in London in 1999.

Frame 26.25cm x 69.75cm (10.25" x 27.5")
Picture 12cm x 55.25cm (4.75" x 21.75")

This is an original watercolour, dating from 1984 but painting & frame are in very good, clean & sound condition.


If you would like further information about the item(s) above, including delivery, please contact the Seller by clicking on the 'Enquire Now' tab
Shipping Options
This antique is no longer available