Removed From Saved Antiques
There was an error, please try again. If the error persists, try refreshing the page.
Signed Original Oil On Board The Blue Vase By Robert William Begg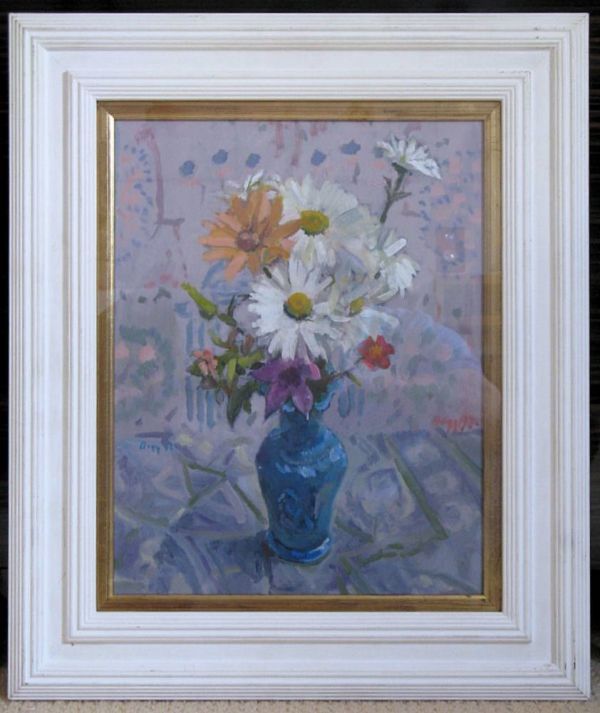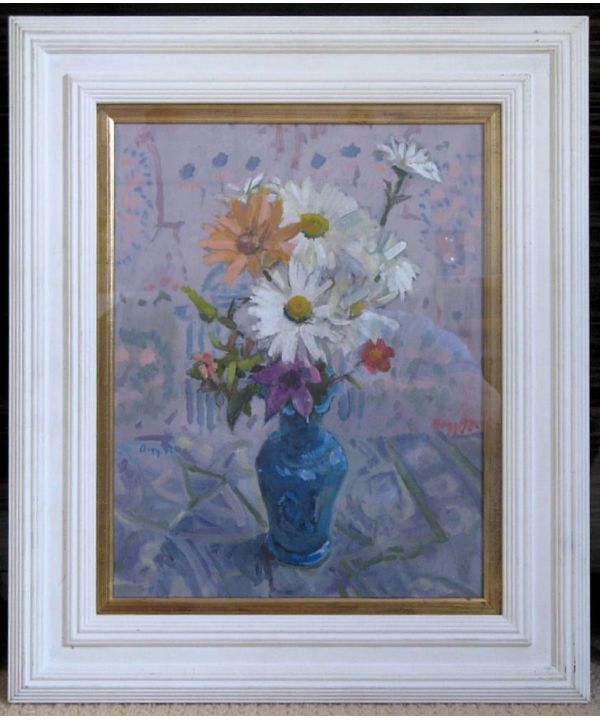 Key Information
Good and Usable Condition
| Length/Width | Depth | Height |
| --- | --- | --- |
| 470mm | 40mm | 550mm |
| 18.50in | 1.57in | 21.65in |
This antique is currently unavailable. Please try again later.
Find more like it in the Oil Paintings category
Description
Framed, Glazed & Signed Original Oil Paintings on Board, 'The Blue Vase' by Robert William Begg (Brit. 1922-2001)

Robert Begg made his career as a Chartered Accountant in Glasgow but gave his heart in the service of the arts, for which he received recognition in 1977 when he was made a CBE. Born in Gourock and educated at Greenock Academy, Begg took an MA at Glasgow University before joining the Royal Navy in 1942, seeing active service in the Second World War in the North Atlantic and the D-Day Landings. He rose to the rank of Lieutenant as a navigating officer. After the war, he completed his accountancy training with Mann Judd Gordon, where his Father was Senior Partner. He married Sheena Boyd, his childhood sweetheart from the art class at Greenock Academy; they both later returned to painting in their 40s and became collectable artists. The present work is dated 1997 and appears to be typical of a series of still lifes with flowers that he worked on during his latter years.

Begg prospered in his career as an accountant, rising to Senior Partner in the firm he joined after the war. At the same time, he pursued his interest in the arts by giving freely of his services. He was a governor of the Glasgow School of Art from 1955 to 1977. A gifted administrator, he took on more and more responsibility, serving as Chair of Governors during 1970-76. From 1974 to 1991 he was a trustee of the National Galleries of Scotland and again rose to become Chairman for 1981-88. During this period he helped to establish the 'patrons' of the National Galleries, thereby enabling them to acquire many leading works of art for Scotland. His other contributions to the arts included acting as executive member of the National Trust for Scotland and, from 1987 to 1990, President of the Royal Glasgow Institute of the Fine Arts.

Frame 46.5cm x 55cm (18.25" x 21.75")
Picture 30cm x 38cm (11.75" x 15")

This is an original artwork, dating from 1997, so painted frame, gilt slip-frame, glass & painting are all in good, clean & sound condition.


If you would like further information about the item(s) above, including delivery, please contact the Seller by clicking on the 'Enquire Now' tab
Shipping Options
This antique is no longer available