Removed From Saved Antiques
There was an error, please try again. If the error persists, try refreshing the page.
Regency Mahogany Canterbury On Ring-turned Legs & Brass Casters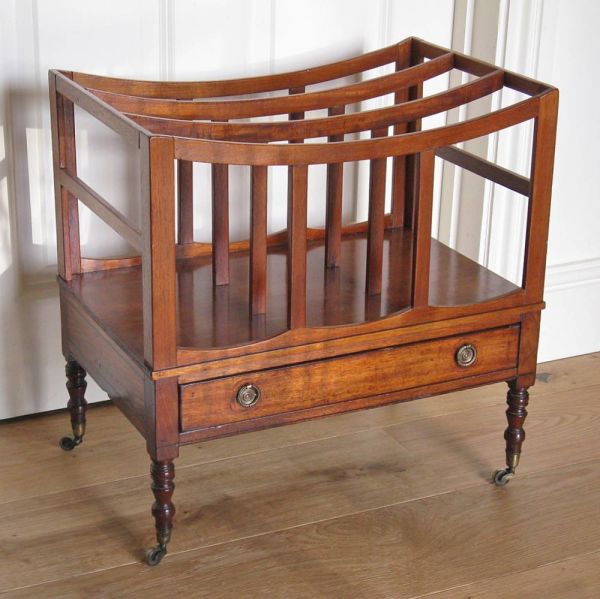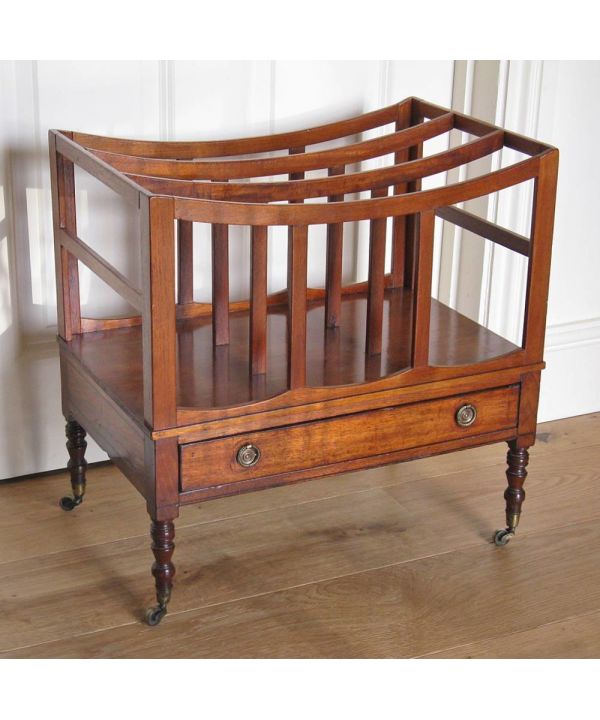 Key Information
Good and Usable Condition
| Length/Width | Depth | Height |
| --- | --- | --- |
| 50 cm | 32 cm | 50 cm |
| 19.69in | 12.60in | 19.69in |
This antique is no longer available.
Find more like it in the Canterbury category
Description
Regency Mahogany Canterbury or Newspaper & Magazine Rack, on Ring-Turned Legs & Brass Casters

A restrained & unpretentious gem from the early 19thC with the desired character of age and otherwise in very good condition, with lovely colour, plain strut dividers with pleasingly concave tops, on an ebony-strung cabinet, finely grained throughout and having a full-depth drawer with 2 circular ring pull-handles and matching dummy at the rear, on tapering ring-turned legs and brass shoes & casters, this mahogany canterbury is both practical and decorative and will charm in the most elegant of period-furnished homes and attract admiring attention from family and guests alike.

Width 50cm x Depth 32cm (19.75" x 12.5")
Height to Top of Cabinet 24cm (9.5") & Height O/All 49.5cm (19.5")

This is a genuine antique from around 1810-1830, so you may expect the mature character that only comes with great age; there is an old and secure repair to the top of one leg at the rear and a little very minor wear & tear but otherwise it's in very good, clean & sound condition, ready to use in your home.


If you would like further information about the item(s) above, including delivery, please contact the Seller by clicking on the 'Enquire Now' tab
Shipping Options
This antique is no longer available