Removed From Saved Antiques
There was an error, please try again. If the error persists, try refreshing the page.
Pair Of 20th Century Gilt-framed & Signed Original Oil Paintings On Canvas, Still Lives By Georges Veller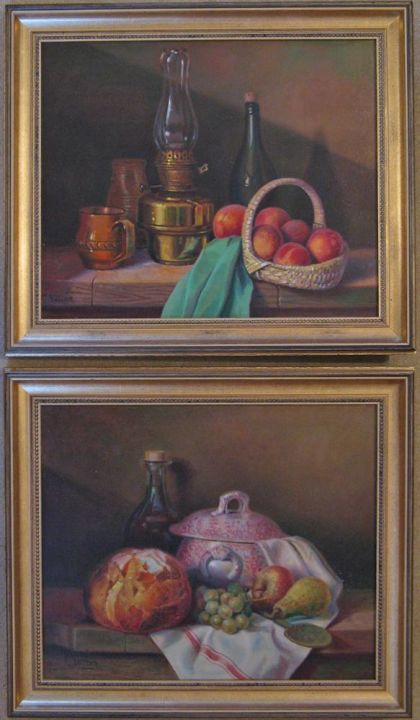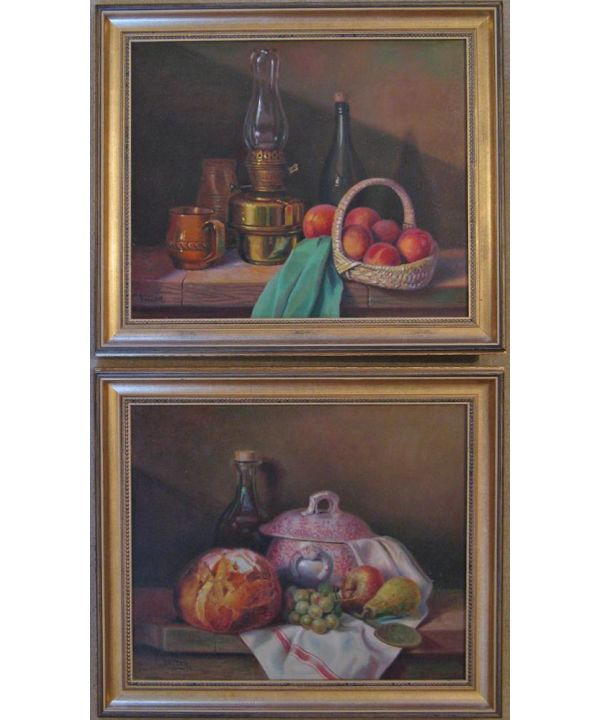 Key Information
Good and Usable Condition
| Length/Width | Depth | Height |
| --- | --- | --- |
| 55 cm | 25 cm | 48 cm |
| 21.65in | 9.84in | 18.90in |
This antique is currently unavailable. Please try again later.
Find more like it in the Oil Paintings category
Description
Pair of 20th Century Gilt-Framed & Signed Original Oil Paintings on Canvas, Still Lives by Georges Veller.

A pair of excellent 20thC, possibly French, gilt-framed oil paintings on canvas, signed Veller and both having on the reverse a label from The Magee Gallery in Belfast, attributing them to Georges Veller, one a still life with fruit, a pink & white china tureen and loaf of bread, the other with oil lamp and a basket of peaches, these decorative and luminous works will grace the most tasteful of collections and deserve to be hung together.

Frames 47.5cm x 55cm (18.75" x 21.75")
Pictures 37cm x 44.5cm (14.5" x 17.5")
O/All Depth of Frame 4.5cm (1.75")

These are original artworks, probably dating from Mid to Late 20thC and canvases & frames are in very good, clean & sound condition.


If you would like further information about the item(s) above, including delivery, please contact the Seller by clicking on the 'Enquire Now' tab
Shipping Options
This antique is no longer available