Removed From Saved Antiques
There was an error, please try again. If the error persists, try refreshing the page.
Framed Original Watercolour, Cornish Riverscape By E W Haslehust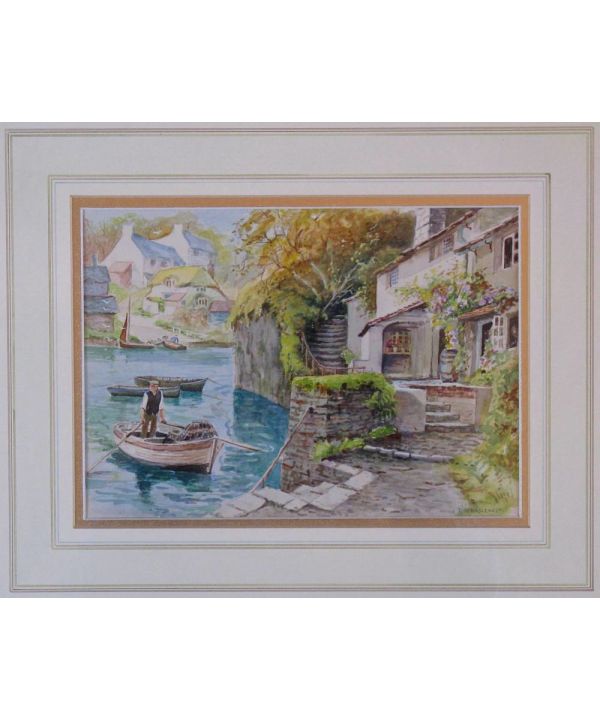 Key Information
Good and Usable Condition
| Length/Width | Depth | Height |
| --- | --- | --- |
| 54 cm | 10 cm | 47 cm |
| 21.26in | 3.94in | 18.50in |
This antique is currently unavailable. Please try again later.
Find more like it in the Watercolours category
Description
Mounted, Gilt-Framed, Glazed & Signed Original Watercolour of a Cornish Riverscape with Fisherman by E W Haslehust (Brit. 1866-1949).

A watercolourist, principally of landscapes, Haslehust was born in Walthamstow and studied at the Slade School of Fine Art under Alphonse Legros. Exhibited at the Royal Academy, the Royal Society of British Artists, the Royal Institute of Painters in Watercolours and the Royal West of England Academy and had several one-man shows in in London. He was a prolific painter of British landscapes which were extensively reproduced and is perhaps best remembered for illustrating 36 volumes of the well-known 'Beautiful Britain' series of travel books published by Blackie & Son. He also designed posters for the LNER & LMS railway companies. His work is in the collections of a number of British provincial galleries, including Bristol, Sheffield, Oldham and Newport, as well as in galleries in Canada, New Zealand and Sri Lanka. For some time he was President of the Midland Sketch Club. He lived in London.

I cannot place the present work definitively but it's surely a Cornish riverscape, perhaps on the Helford River but the intimacy of the subject suggests it may even be an imaginative composition and it presumably dates from the first half of the 20thC.

Frame 47cm x 53.5cm (18.5" x 21")
Picture 17cm x 24cm (6.75" x 9.5")

This is an original watercolour, dating from the first half of the 20thC but painting, mount & frame are in excellent, clean & sound condition.


If you would like further information about the item(s) above, including delivery, please contact the Seller by clicking on the 'Enquire Now' tab
Shipping Options
This antique is no longer available