Removed From Saved Antiques
There was an error, please try again. If the error persists, try refreshing the page.
Framed Original Oil On Canvas, Cleethorpes Promenade By Keith Baldock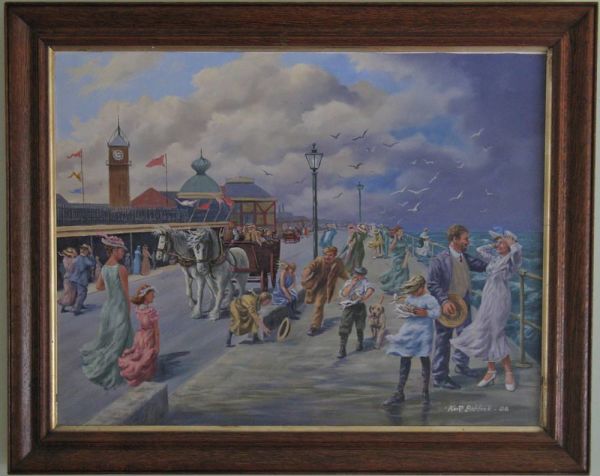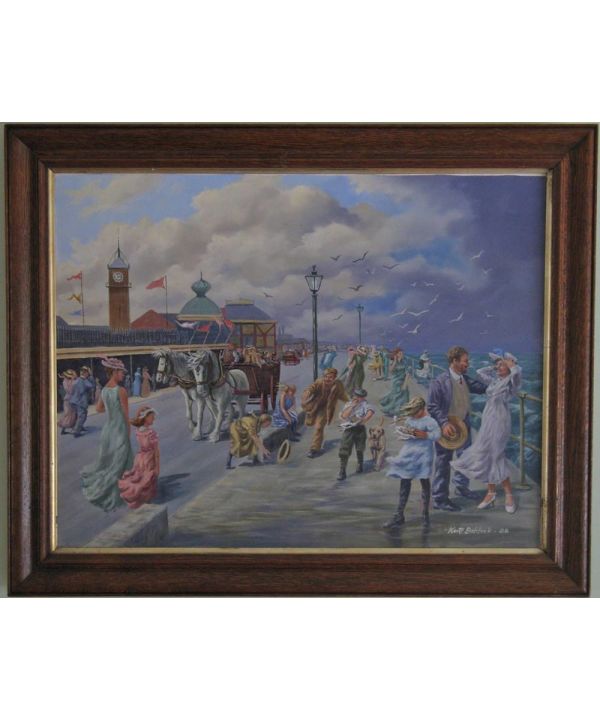 Key Information
Good and Usable Condition
| Length/Width | Depth | Height |
| --- | --- | --- |
| 82 cm | 15 cm | 66 cm |
| 32.28in | 5.91in | 25.98in |
This antique is currently unavailable. Please try again later.
Find more like it in the Oil Paintings category
Description
Framed & Signed Original Oil Painting on Canvas, 'Cleethorpes Promenade' by Keith Baldock (Contemporary British).

Grimsby artist Baldock prides himself on preserving the heritage of his home town by painting mostly local scenes, including this work that shows a brief squall disturbing walkers along the nearby Cleethorpes Promenade. He is well known for his paintings of the local fishing fleet at sea, as well as rural landscapes, usually with an emphasis on days gone by. His commissions have included portraits & nudes, still life and wild life studies. His works adorn jigsaws, greeting cards and also Royal Doulton and other collectors' plates.

Frame 66cm x 82cm (26" x 32.25")
Picture 52cm x 68cm (20.5" x 26.75")
O/All Depth of Frame 4cm (1.5")

This is an original artwork from 1998 and, barring some tiny brown spots on the canvas, a very small chip out of the slip-frame and the fact that it's slightly loose in the frame, both canvas & frame are in good, clean & sound condition.


If you would like further information about the item(s) above, including delivery, please contact the Seller by clicking on the 'Enquire Now' tab
Shipping Options
This antique is no longer available