Removed From Saved Antiques
There was an error, please try again. If the error persists, try refreshing the page.
Early 19thc Mahogany & Boxwood Strung Dressing Mirror On 2-drawer Cabinet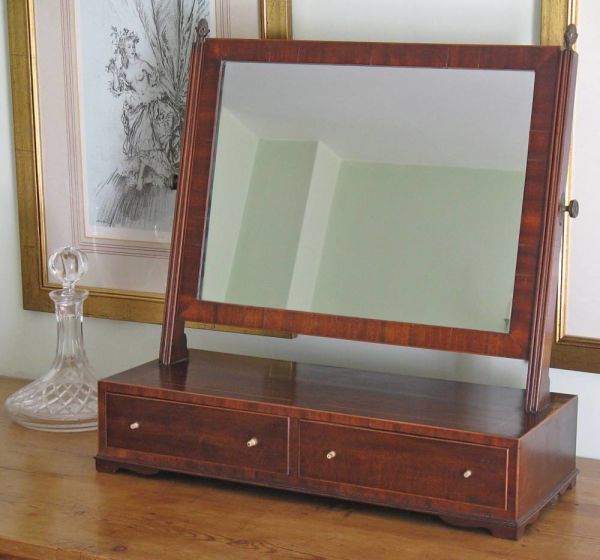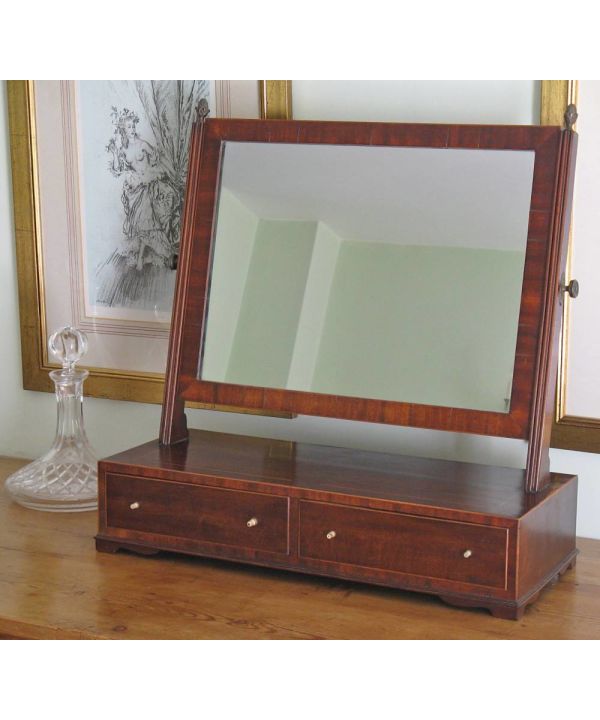 Key Information
Good and Usable Condition
| Length/Width | Depth | Height |
| --- | --- | --- |
| 59 cm | 23 cm | 60 cm |
| 23.23in | 9.06in | 23.62in |
This antique is currently unavailable. Please try again later.
Find more like it in the Toilet Mirrors category
Description
A lovely Georgian piece in very good condition, rich in colour and having boxwood stringing to the mirror frame, cabinet & drawer edges and inlay to the cabinet top, clear plain replacement glass in a cross-banded frame on moulded uprights, brass finials, round brass tightening handles and peg handles to the drawers, the cabinet with moulded lower edge on bracket feet to front & rear, this fine swing mirror will delight in the most elegant and stylish of period reception rooms or attract admiring attention in a guest bedroom.

NB: THE BRASS PINEAPPLE FINIALS WERE REMOVED & STOLEN WHILE THIS MIRROR WAS ON PUBLIC DISPLAY AND HAVE BEEN REPLACED BY NEW BRASS FINIALS, AS SHOWN IN THE FINAL PICTURE

Width 58.5cm x Depth 23cm (23" x 9")
O/All Height to Top of Finials 59.5cm (23.5") & Height to Top of Cabinet 12.5cm (5")

This mirror is a genuine antique, so you may expect the mature character that only comes from considerable age; both uprights are slightly loose where they bear on the cabinet but this is a minor issue and, in all other respects, it's in very good, clean & sound condition.


If you would like further information about the item(s) above, including delivery, please contact the Seller by clicking on the 'Enquire Now' tab
Shipping Options
This antique is no longer available